It appears that everybody is trying to get into the Christmas spirit this year – even koalas. Christmas has come early for an Australian family after an adorable koala made its way into their home and claimed up their Christmas tree. On Wednesday, the koala was noticed sitting among the tree's Christmas decorations at a home in Adelaide.
On Wednesday, before leaving the house at 3 pm, Taylah, 16, went inside to check whether the lights were off and the doors were closed. When the family came back home at 6 pm, an unexpected guest was waiting for them.
Taylah said that the dog ran into the house and sniffed around their Christmas tree. They knew that something weird had happened. When she looked up, Taylah noticed the koala on the Christmas tree.
Amanda McCormick, Taylah's mother, believed that some of her children had put a toy in the tree. But it was a live koala. She added that was something that they did not see every day. They returned home to a real live koala up on their Christmas tree in their lounge room.
Amanda shared photos of the curious koala nestled among the Christmas tree' decorations on the Internet and received thousands of likes.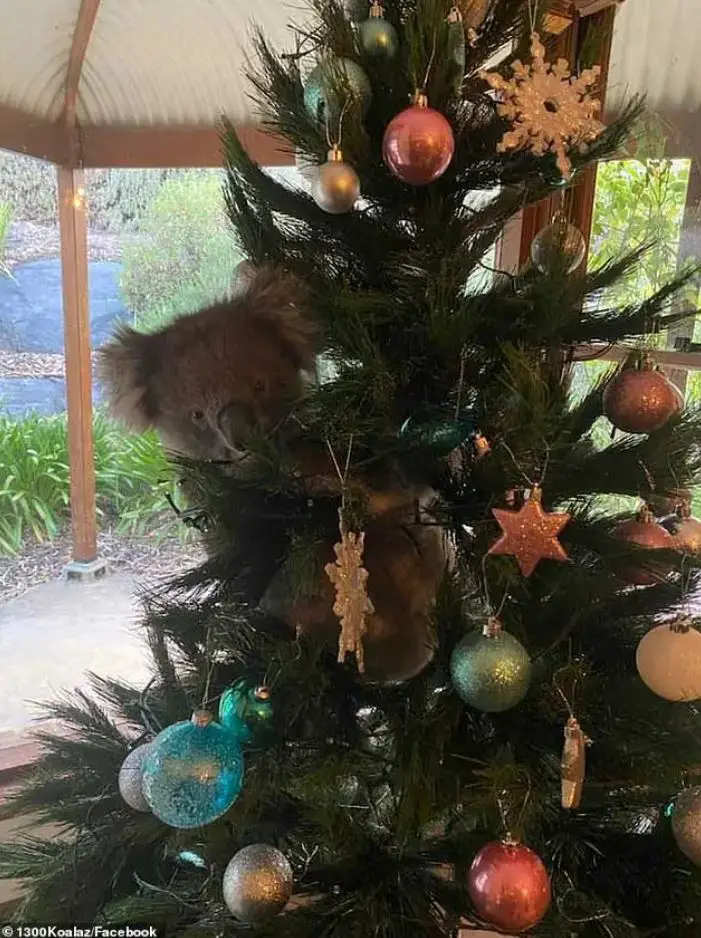 A curious koala wandered into a house and wanted to be the fairy in the Christmas tree
Even though the koala, named Daphne, might have been an adorable addition to their Christmas tree, her place wasn't there.
The family called the Hills Koala Rescue Group in Adelaide to remove the unexpected, furry guest, saying that a Christmas angel climbed up their Christmas tree.
The rescue group said that they have rescued koalas from other unexpected places, too. They have rescued the cute animals from open inspections, bathrooms, chicken coops, brooms, bicycles, toy cars, children's prams, etc. However, this is the first time they were rescuing a koala on a Christmas tree.
Two volunteers from the Hills Koala Rescue Group approached the koala carefully and retrieved it in a few minutes from its festive spot in the Christmas tree.
The group has been set up since last year. Their primary aim is to rescue and rehabilitate koalas in need across South Australia. They also advise people that the best thing that they can do is to call for them to safely remove a koala.