Both children and adults are interested in playing computer games, doing challenges and solving puzzles. Nowadays, with the unlimited Internet access that we have, we can choose from a large variety of puzzles available online and spend all day solving the puzzles.
Several days ago, we found an interesting photo, which appears quite simple at first. It shows somebody`s backyard in the autumn. It is said that there is a woman hiding on the photo and that people who can notice her in less than 5 seconds have an above average IQ.
Did You Notice The Woman On The Photo?
Did you see the woman or are you still looking for her? Admit it, it is really hard to notice her, she cannot be easily recognized.
Are you still looking for her? Take a look at the right corner of the photo, near the tree`s base. Did you notice Nadine, the woman whose body is perfectly camouflaged to blend seamlessly into the fall scenery?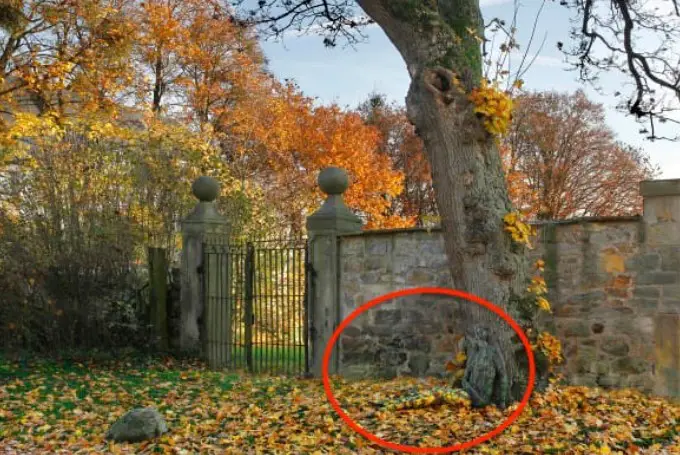 Congratulations if you have noticed her. However, if you are still looking for her, I am going to give you some hints.
This piece of art belongs to Jörg Düsterwald, a native German artist, who is well-known for his realistic body arts. He has been perfecting body arts for more than 20 years. He has mastered how to blend his models into any scene.
Originally, Düsterwald shared his photo with an old fence and yellow leaves without saying anything. Later, he challenged his followers to figure out the woman on the photo. Nadine, the woman on the photo, in not hiding, she is just unrecognizable. Many people have been struggling to notice her even though she is evidentially there. It is really hard to spot her at first.
This is not the only Düsterwald`s photo. His series of Nature Art Photography contain other photos similar to this one. In addition, he has created plenty of interesting photos that function as a mind game. However, it is thought that this is one of the most difficult ones to figure out.
You are still struggling to fine the woman on the photo? Take a close look, here she is. When you look at the photo at first, you see an amazing wall scene. There is a concrete wall with an iron gate and trees. The yellow and orange leaves are scattered along the field and within the amazing scenery there is a woman, perfectly painted and cleverly disguised.