Losing weight is not a simple challenge. There's the diet which is an integral part of the process and exercise which is important too. Many people just choose one over the other, but that won't provide results. Crash diets don't work too. Well, they do work in the short run but at the expense of your health.
So, is there a solution to dropping weight quickly and without any harmful effects? There is. Below you will see a handful of water-based infusion recipes that will refresh your system and help you lose weight. They're all incredibly easy to prepare, so you don't need to be a chef or spend a lot of money on them.
Detox Water
This simple detox water uses cheap fruits and is served over ice. It has quite a refreshing taste and will boost your energy levels while keeping you hydrated. It's simple to prepare – here's how:
Ingredients
Spring water (1 jug)
A handful of strawberries
Half a cucumber
Basil leaves
Ice
Preparation
Cut the strawberries and cucumber on tiny pieces, then put them in the water. Add a couple of basil leaves in the end and let the drink infuse for an hour before you chug it down every day.
Lemon Cucumber Water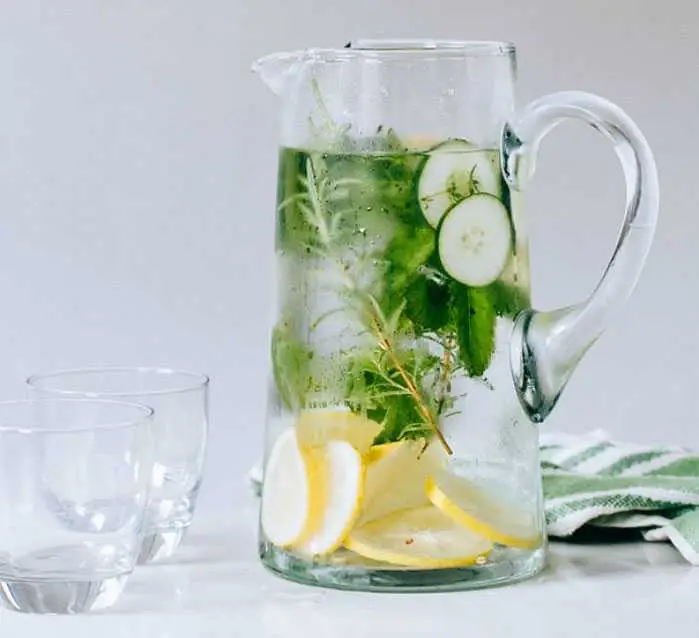 Lemons and cucumbers are a match made in heaven. They both taste great and refreshing and are the perfect weight loss ingredients. They will keep you hydrated too which is very important when you're trying to lose weight.
Ingredients
Half a cucumber
1 lemon
1 jug of water
A bit of thyme and mint
A few rosemary sprigs
Preparation
Wash the lemon and cucumber, slice them on thin pieces, and add everything to the water. Leave the drink to infuse for an hour before drinking it.
Blackberry Mint Water
This infusion has a bit more exotic taste thanks to the blackberries and mint. It's the perfect summer drink over a handful of ice. It can be prepared in no more than a few minutes, so you can easily have it ready before work and take it with you.
Ingredients
Spring water (1 jug)
A handful of blackberries
A handful of mint
Preparation
This is as easy as it gets – put the blackberries and mint into the jug of water and cover it. Leave it in the fridge for an hour and enjoy.
Blueberry Orange Water Infusion
Blueberries are a great source of antioxidants, while oranges are full of vitamin C. They're both satiating and perfect for shedding weight.
Ingredients
1 orange
A handful of blueberries
Spring water (1 jug)
Preparation
Peel the orange and slice it and wash the blueberries. Put them in the water and cool the jug for an hour or two before drinking.
Cinnamon, Pear, and Ginger Water Infusion
Cinnamon has surprising fat-busting properties, just like ginger. The pear will tone the spice of this drink down and give it a velvety finish. Drink it every day to boost your digestion and start losing weight.
Ingredients
1 pear
6 cinnamon sticks
A bit of ginger
Vanilla sticks
Spring water
Preparation
Wash all the ingredients, peel them, slice them thinly, then add them to the water. Cool the drink for a bit before chugging it down.
Apple Detox Water
Apples are a great detox and fat-busting fruit that you can find for cheap. A pinch of cinnamon gives this drink a great taste with a pleasant finish.
Ingredients
4-6 apple slices
A pinch of cinnamon
A few ice cubes
Spring water
Preparation
Wash and peel the apple then slice it thin. Add it to the water, add the cinnamon, and pour a jug of the water infusion over ice. Enjoy!
Pineapple-Mango Infused Water
How about a bit of an exotic infusion? Both pineapple and mango have great detox properties and are great for shedding weight too.
Ingredients
1 mango
A cup of chopped pineapple
Spring water
Preparation
Cut the pineapple and thinly slice the mango. Add them to the water, mix well, leave the drink to infuse and cool down in the fridge for an hour and enjoy!