Charles Sacilotto and Marie Granmar built a greenhouse around their home in Sweden and provided themselves free heat and food during the winter.  
In Sweden, winter lasts about 9 months, and the average temperature in January is below freezing. However, in Charles and Marie's greenhouse, it is much warmer.
The temperature is about 28° F inside the house and about 68° F upstairs. 
Marie claims that every family in Sweden turns on their heater in mid-September, and keeps it on until mid-May.  
Moreover, she added that the greenhouse that they built helps them to reduce the months they need to heat their house from nine to six a year. This helps them save energy, too. When they need additional heat, they use a wood-burning stove.  
According to her, the best thing is that she can sit on her roof-top terrace and balcony and watch the sun and the stars during the entire winter. In summer, when the temperature comes to a certain degree, the roof-top terrace opens and lets out the heat.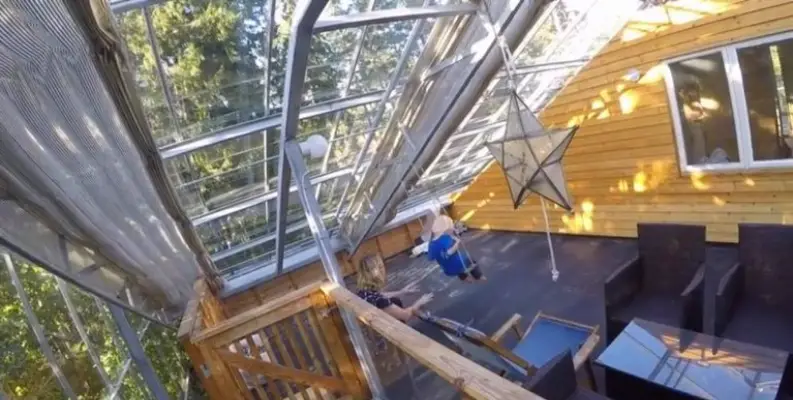 The rooftop deck is the family's favorite place. As they have a glass ceiling, they removed the roof and created a large space for reading, sunbathing, gardening, and playing with their son.  
Not only does the greenhouse help them stay warm, but it also allows them to produce food.   
When Charles and Marie built their greenhouse, they created a Mediterranean climate in their home, which allows them to grow products that are not common for Sweden, such as cucumbers, tomatoes, herbs, grapes, figs, and so on. Outside the greenhouse, they grow apple and cherry trees.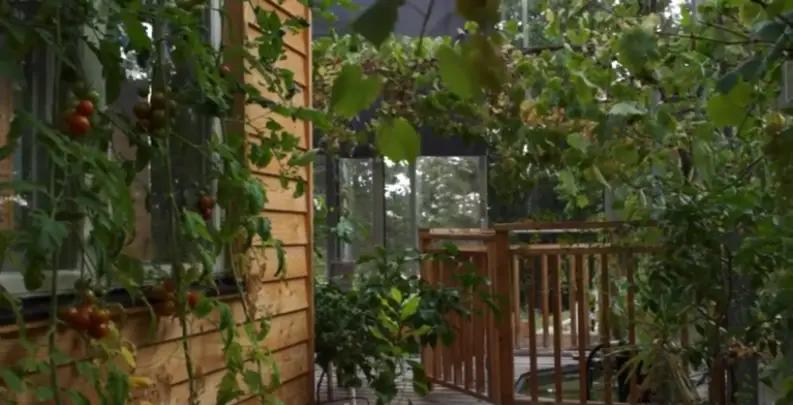 To be able to grow food, they have also set up a rainwater collection system that provides free water and a composting toilet system, which fertilizes their plants. Moreover, the plants, which they keep, cleanse the air and supply oxygen.  
The compost toilet system contains a separate urine toilet, which uses cisterns, centrifuges, garden beds, and ponds to filter water and compost the remains.  
In the future, the couple plans to set up a system that captures excess solar energy in the summer and keeps it for the winter.  
Marie and Charles are not the first couple who built a greenhouse around their home. They were inspired by Bengt Warne, a Swedish architect who created the Naturhus in 1974.