There are some moments in our lives when we need to act immediately, without any thoughts and evaluations. These emergency situations require decisive and immediate interventions, which make the difference between life and death.   
A group of American boys, who were usually swimming at the Hubble Creek in Jackson City Park, know this pretty well. The tranquility of the situation was interrupted by an event that could have ended tragically.   
A young girl, who was swimming next to the group of boys, suddenly disappeared under the water. With the heavy rains from the previous days, the water in the creek had risen, creating dangerous currents.   
The four boys wondered what had happened with Kinsley Stuard, the drowning girl. Then, Aiden Kyle, one of the boys, noticed the girl`s hand sticking out of the water. Even though the current was strong, Aiden managed to grab her. However, as he could not bring her safe to the bank of the creek, he asked his friend for help. The two boys fought against the strong current and managed to pull the poor girl out of the water.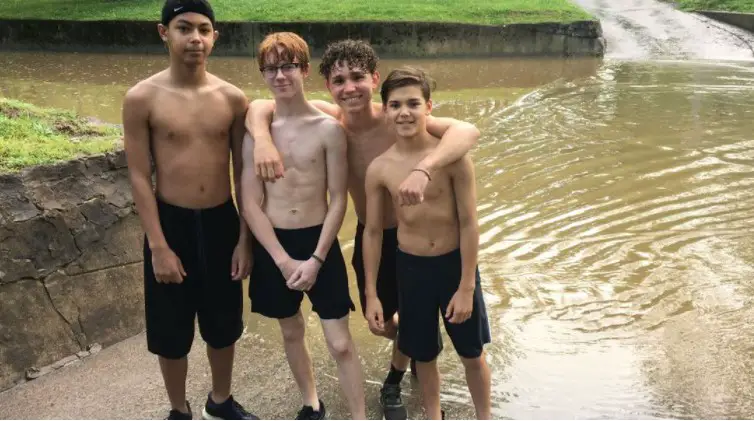 After taking her out of the water, the girl was taken to the hospital, where a doctor checked her. She was in a good condition and was immediately discharged. When everything finished, the four boys received a well-deserved reward. When Kinsley`s parents heard what had happened to their daughter, they decided to reward the heroic deed of the four boys with a lifetime supply of burgers. Kinsley`s parents own the "Kenny`s Flippin Burgers" shop and they thought that this reward was the least they could offer to the four boys, who courageously and without any hesitation, had saved their daughter. The four boys could eat free hamburgers for the rest of their lives.    
Casey Stuard, Kinsley`s mother, revealed:     
"We want to say thank you to the young boys who saved our daughter. We are the owners of "Kenny`s Flippin Burgers" shop and we want to let you know that you can eat burgers with us, for free. Because no amount of money can be put on what you did." 

 

 
The worst could have happened to Kinsley if the boys had not saved her on time. Luckily, this story had a happy ending.